I've had my hands tied with my new little nugget lately.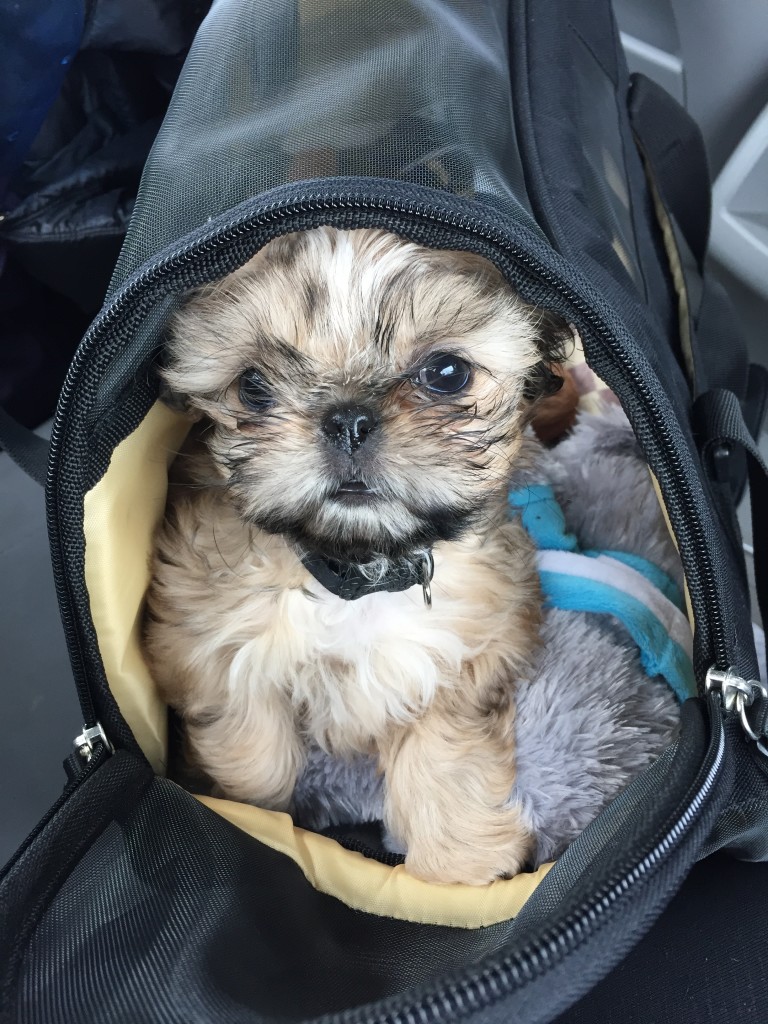 I am more in love than you can imagine. I'm Up at 3am to take him out. I catch him chewing on every single cord in my apartment. His favorite food is beef and chicken and its an issue when he prefers it over his puppy food. The lack of sleep, the spoiled palate. The teething. Its all worth it.
I've learned a whole new sense of patience since owning my dog. I realize that training doesn't happen overnight and neither does house training. He's my best bud, my cozy cuddle buddy and one of the best decisions I have made in my life. He's pooped on my floor, he's peed on my bed, he's woken up me up in the middle of the night and he absolutely loves my shoes. What makes up for it? his little face and all 2.8lbs of cuteness.
The great thing about Ozzies high class appetite is that he always keeps me company in the kitchen when I'm making a new recipe. He's my taste tester
Ginger. Coconut. Rice. Chicken. Curry. YES.
I really don't like Indian food; I never have. On my list of ethnic cuisines, Indian would probably rank very close to last place. I think the reason I began disliking it from a young age was because I really like to see what I'm eating. I hate foods that are doused or covered in sauces and foods that are chopped or mashed so much I can't tell what I'm eating (especially out at a restaurant) Indian food always fell into those categories for me. I never knew what I was eating and everything had way too many complex flavors and spices for me to handle. So…therefore I attached Indian food with a 'dislike' button.
When I first was playing around with this recipe, I didn't think I would really like it. Everyone in my life is so surprised that I am just not the biggest fan of curry. I think people associate curry with vegetables and I love vegetables so obviously I must love curry. Meh, not so much. Its never the spice that I grab like I do with oregano or basil. With that said, I was talking with a friend and she was saying how she made a coconut curry crockpot chicken and at first, my initial reaction was "ewwww curry" Then I starting thinking about how satisfying and different that recipe sounded. It had been a while since I have made a chicken recipe from scratch using flavors that I don't normally cook with but I was up for the challenge.
When I make a recipe, I usually glance at a few existing ones to get an idea of flavor combinations. I don't want to completely waste the food but then again I want to have my own spin on it, so looking never hurts, right?
So Coconut Curry Chicken With Fresh Lime came about. This recipe sounds and may even look like a lot of work, but trust me its not. I began by starting the rice on the stove, and as that sat and started to soak up the coconut milk and ginger flavors, I marinated the chicken. The marinated chicken was placed in the fridge and left there for 4 hours (I went back to work in the interim) I half cooked the rice and left it covered when I left. By the time I got home, the rice had absorbed all of the delicious coconut milk and ginger flavors and was perfectly fluffy!
Next up was the chicken. I always get weary about cooking chicken on the stove top thinking I will overcook it and it will be dried out. They key to keeping this chicken tender and perfectly cooked is the flavor bursting marinade. This is the easiest way to bring a simple chicken breast from boring to bodacious, upping game from 0-100. Another fabulous thing about this marinade? You are in charge of the ingredients, no preservatives, no additives, lower in sodium than store bought and double the flavor.
You can use a tupperware or glass bowl to let the chicken marinate in, but I always cooked with my mom when I was younger, and her trick for making the meat as juicy as possible was that Ziplock bags seal in the flavors and you can go in and swish it around. The sealable bags allow you to coat food with smaller amounts of marinade. Just be sure to Fold the bag down and press out as much air as possible before sealing! The bags also take up little fridge space
So, however you want to throw the chicken marinade ingredients together, thats up to you! Just make this recipe…its so freakin good, K?
I have posted the recipe below and I REALLLLLLLLYYYYY think you should give it a try…after you can't look at another piece of Turkey Of course! HAPPY THANKSGIVING!
xoxox
NAOMI
COCONUT GINGER BROWN RICE
2015-11-16 17:45:58
Serves 2
Ingredients
1C brown rice
1 Inch Fresh chopped ginger
1C lite coconut milk from a can
½tsp sea salt
1C water
Instructions
Pour rice, coconut milk, salt and water into a large saucepan over medium heat.
Add the ginger to the saucepan and stir everything well to combine. Make sure that the ginger is submerged in the rice mixture.
With a cover on the saucepan, bring the rice to a boil (stirring occasionally to ensure the rice isn't sticking to the bottom of the pan) You may need more water depending on the starch content of the rice.
After the rice is brought to a boil. Let it boil for about 10 minutes and then reduce the heat to a low simmer. Let it sit until the rice has fully absorbed the liquid. Again, you may need to add water to the pan throughout. When finished fluff with a fork and enjoy!
1 Fit Foodie http://1fitfoodie.com/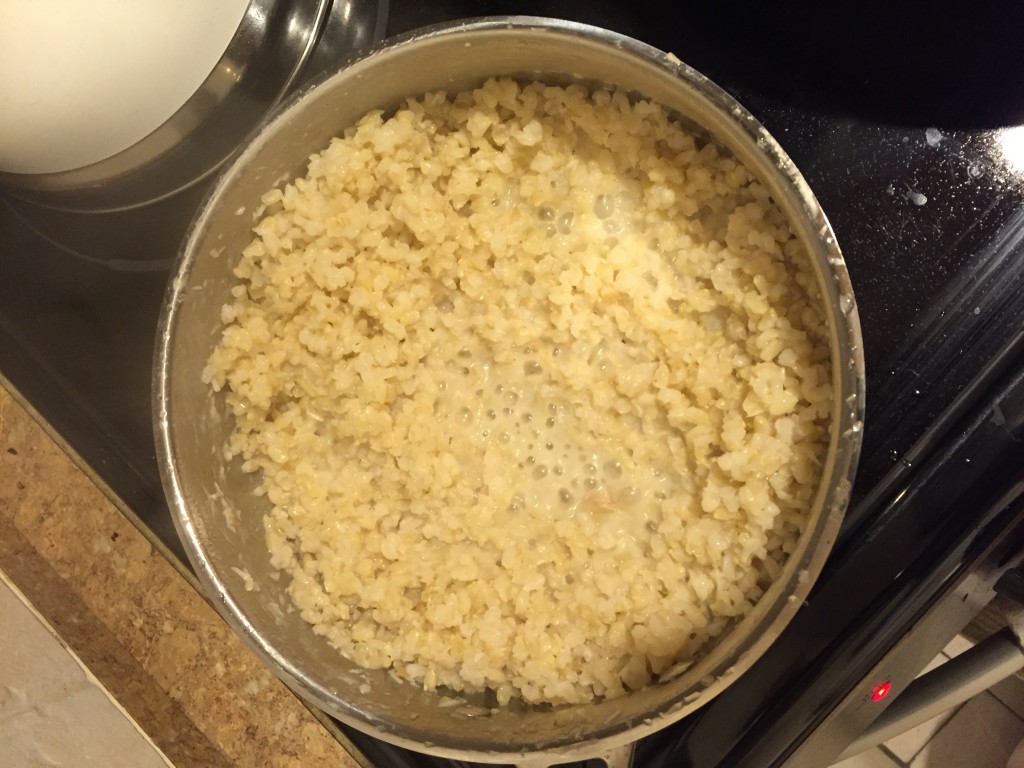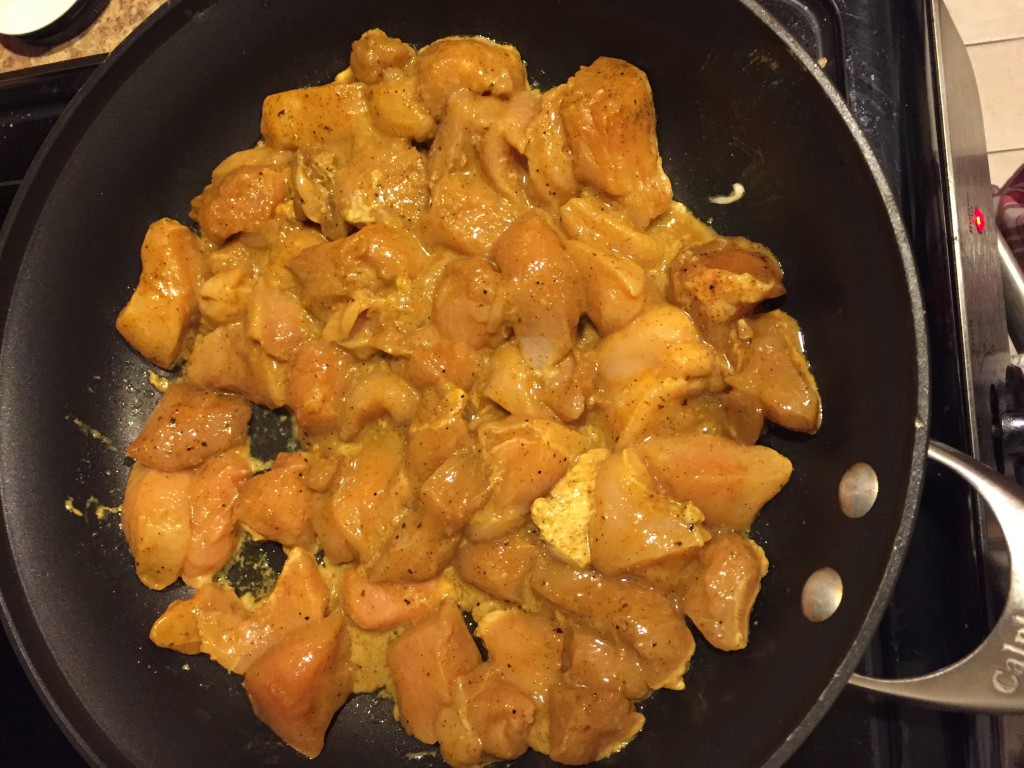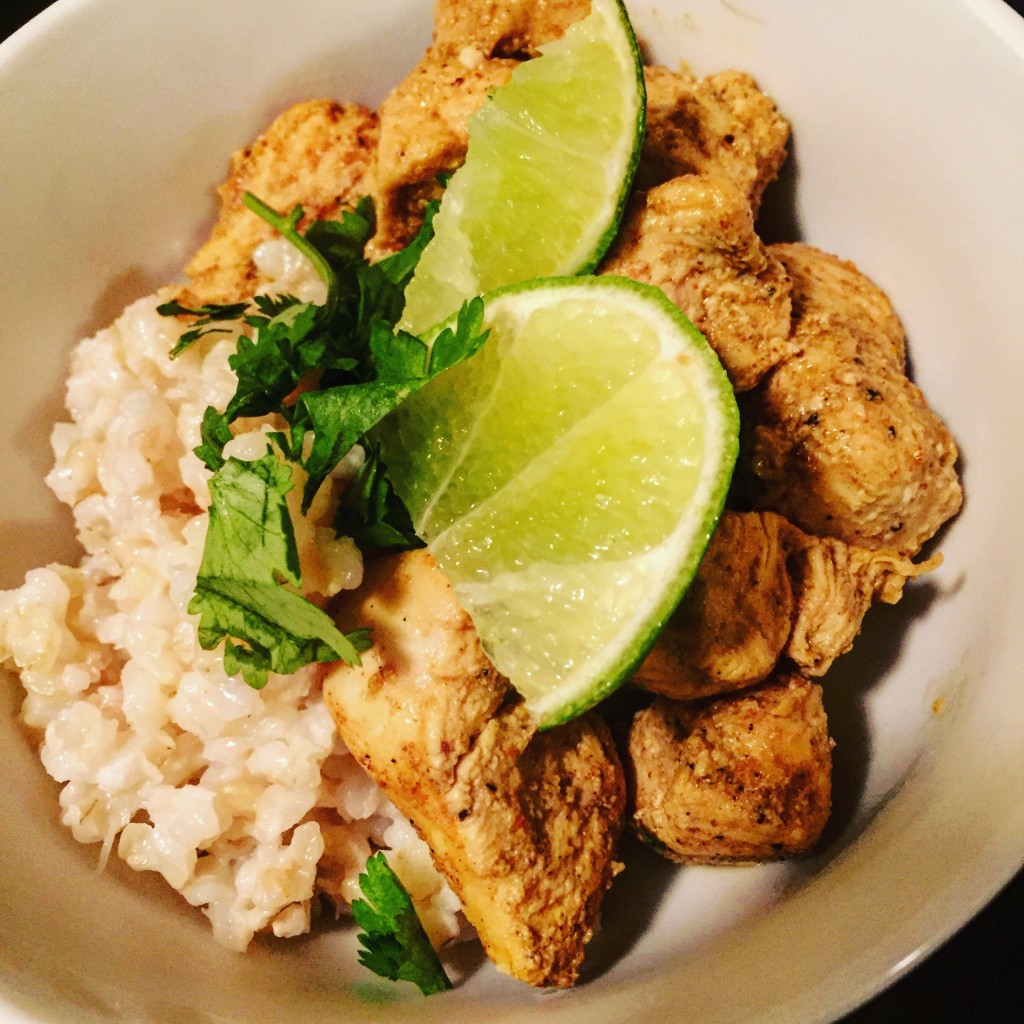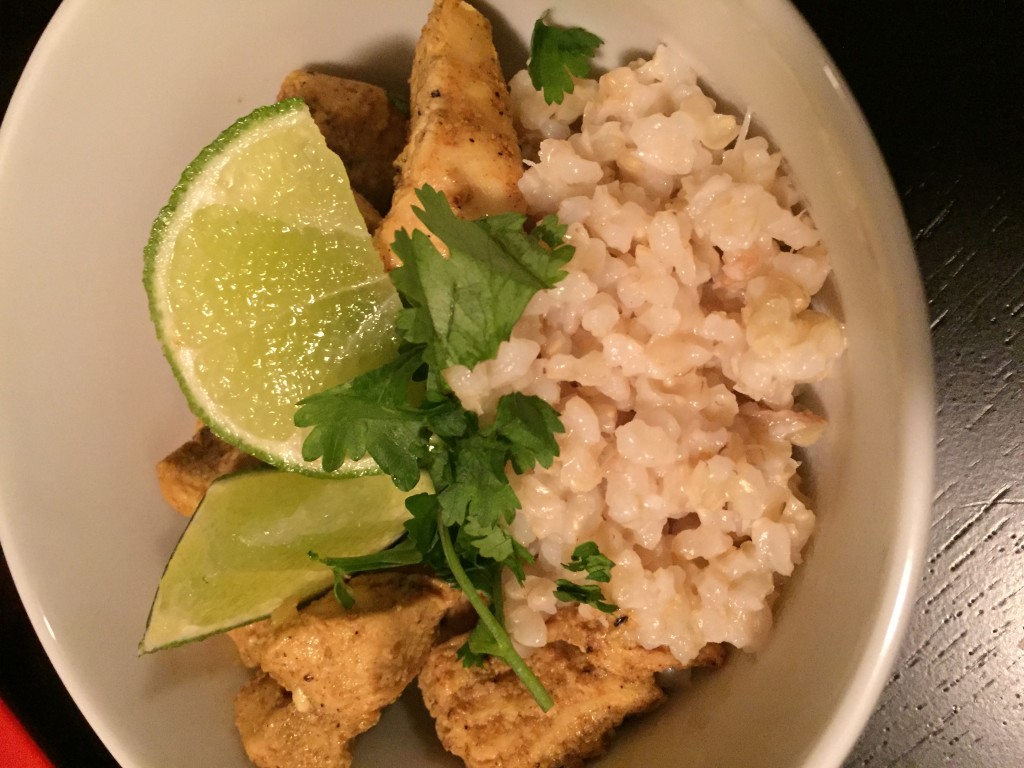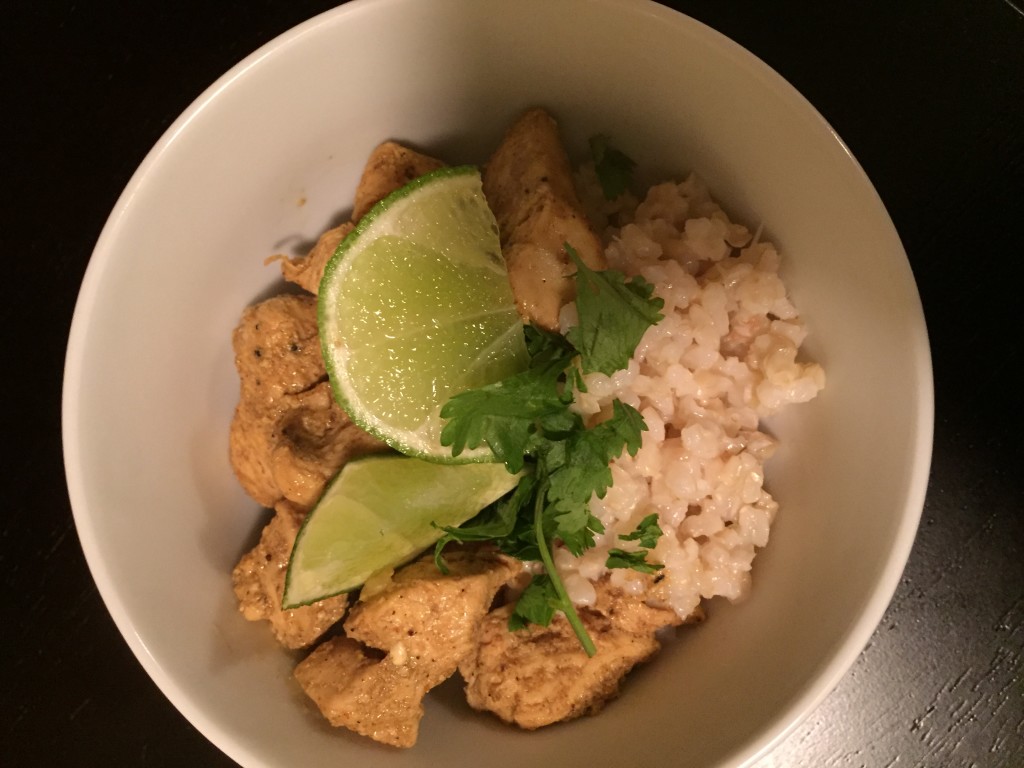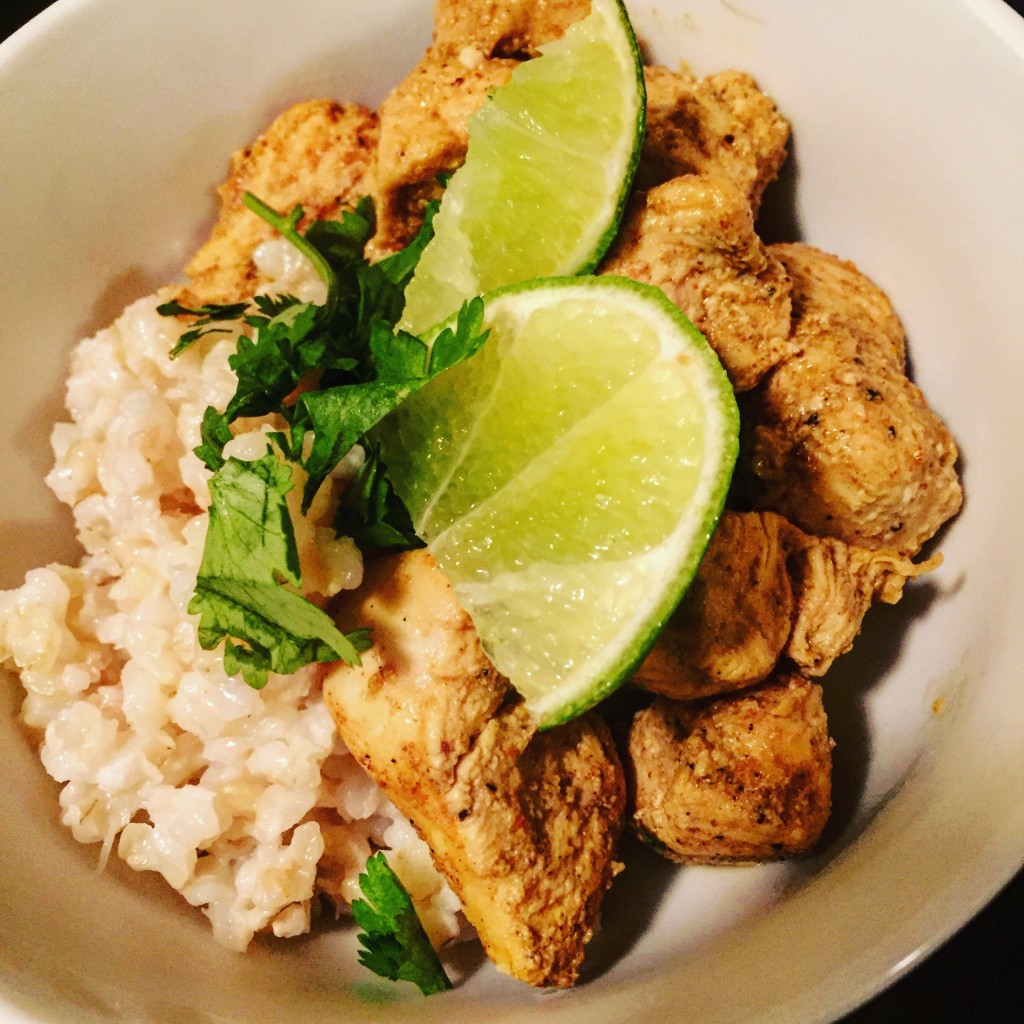 COCONUT CURRY LIME CHICKEN
2015-11-16 14:16:07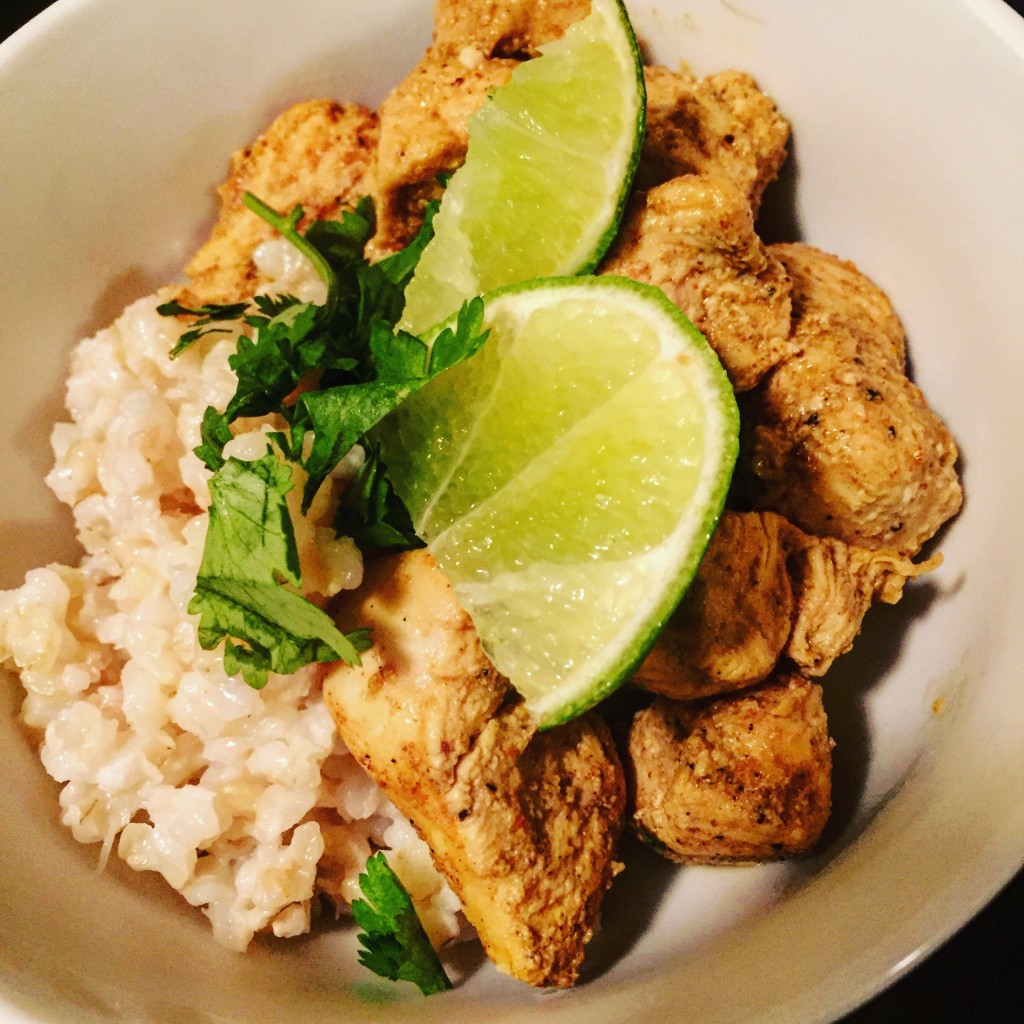 Serves 2
Ingredients
1.5lbs chicken breast, cubed
2T coconut oil
1tsp cumin
1tsp curry
1/2C lite coconut milk from a can
1-2T soy sauce or tamari
1T honey
2T fresh, chopped cilantro
1 zest of fresh lime
1tsp Kosher salt
3 slices of fresh lime for garnish
Instructions
Place the cubed chicken in a large ziplock bag.
Place all of the spices, coconut milk, sweetener, soy sauce, lime juice. You can save half of the lime juice for adding after the chicken is cooked!
Let the chicken marinate in the ziplock bag for 1hr-overnight. (The longer the better!)
Place a large skillet over medium heat and once warm (about a min or so) add in the coconut oil to the pan. Let it melt and once the pan is sizzling (test by dropping a bit of water to seeing if the pan sizzles) add the chicken to the pan
Cover for the first 5 minutes to keep the flavors sealed into the chicken. After about 5 minutes when the marinade begins to bubble take the cover off and mix the chicken around so its cooking evenly.
Once the chicken is fully cooked and fork tender, turn off the heat and let it sit until ready to serve over the coconut ginger rice! Garnish with fresh cilantro and fresh lime wedges
1 Fit Foodie http://1fitfoodie.com/