Soooo Ozzie got neutered the other day and he's doing way better but I must blast his face the internet.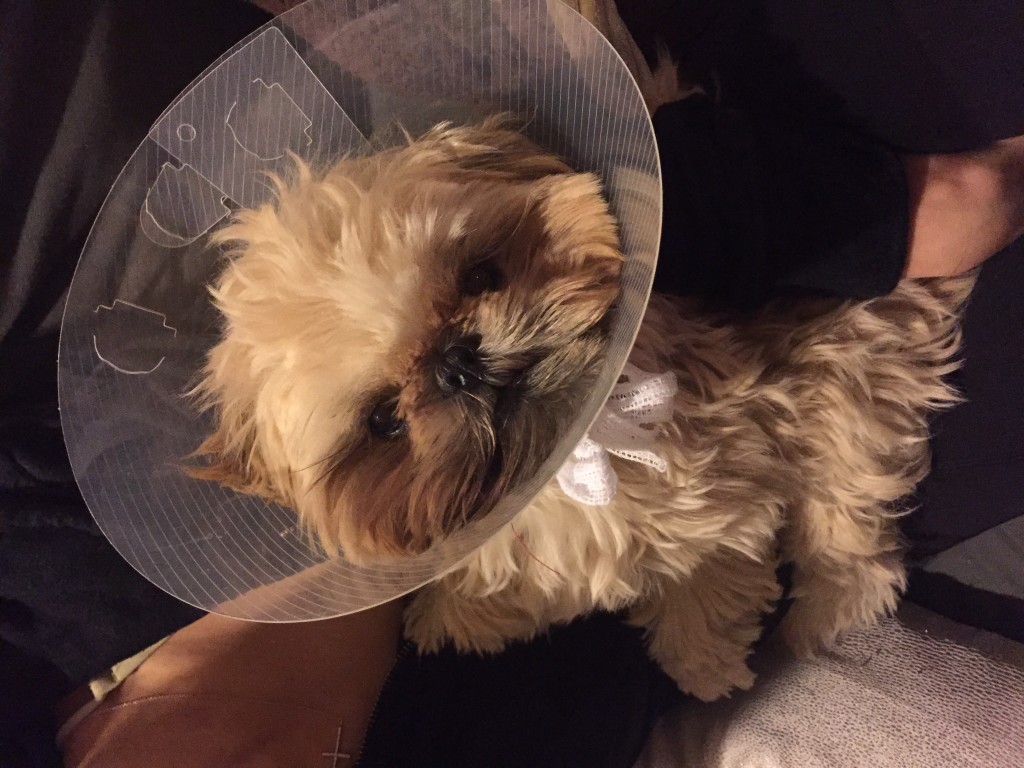 He's doing so well and such a little trooper. I can't even imagine what I will be like when I have kids. I just kept asking the vet if he's OKAY in that cone. Can he breathe? Can he walk? Will he make it? I think they're used to crazy questions, but I just needed to get my basis covered with this cone head.
So anyway…I made these bars. YOU GUYS. They're freakin' amazing. I threw some ingredients in a bowl and kind of just played around with it until the batter tasted awesome. I have so much protein powder in my cabinet because I don't really use protein powder that much anymore. I am trying to stay away from so much processed foods as I have so many food intolerances and my body works best with the real thing. So I have this protein powder by SLAP Nutrition in vanilla flavor that is pretty clean by nature. It's easy on my stomach and find no bloating or other symptoms, I just haven't gotten around to using it–until now!
I also have a whole container of Nuts N More salted caramel peanut butter I have been on an almond butter kick lately (the Maranatha no stir almond butter, crunchy is my all time favorite right now! OR the fresh grind from Whole Foods) Either one, give me a spoon and I'll be content.
So I used the peanut butter and whey protein powder in this recipe because I figured they needed some loving.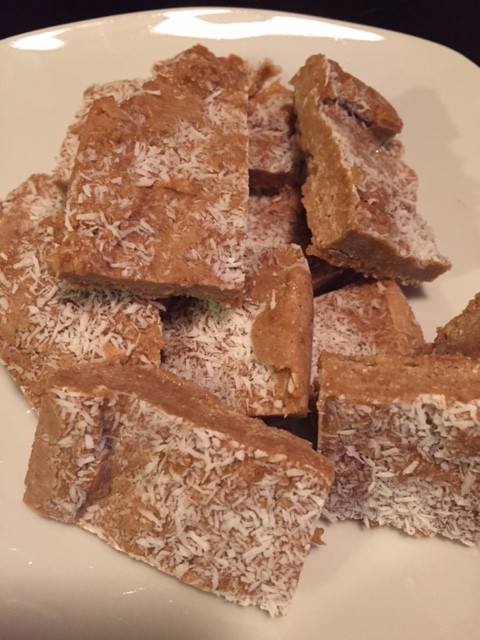 Paleo Peanut Butter Coconut Protein Bites
2016-04-10 18:59:41
These bars are a fast and delicious way to cure that sweet tooth in between meals, pre or post workout OR as a dessert after lunch or dinner. You can customize them by playing around with different nut butter and if you want to make these strictly Paleo, sub the PB for another nut butter. I topped these with shredded coconut, but you could top them with crushed walnuts, dark chocolate chips or nothing at all! I made them into bite size bars but again, feel free to make them bigger!
Ingredients
1.5 scoops vanilla whey protein powder (I used SLAP nutrition brand)
4T coconut flour (I used "Let's do Organic brand)
4T Nuts N More Salted Caramel Peanut butter (sub another nut butter of your choice if you would like!)
~2T unsweetened almond milk (to make into dough)
1/4tsp cinnamon
2T unsweetened shredded coconut for garnish
Instructions
Place all ingredients besides the almond milk in a medium mixing bowl
Mix well
Add in the almond milk a tiny bit at a time, mixing after each addition (amount may vary!)
Place the dough on a piece of wax paper (I sprayed mine with olive oil spray so as not to stick)
Lay it out and spread it thin using the back of a spoon
Sprinkle the coconut evenly on to of the bars
Close up the wax paper on the bars like you are wrapping a present
Place in the freezer for 2 hours up to overnight
Take out of the freezer and cut the bars into equal sized mini bars
ENJOY!
1 Fit Foodie http://1fitfoodie.com/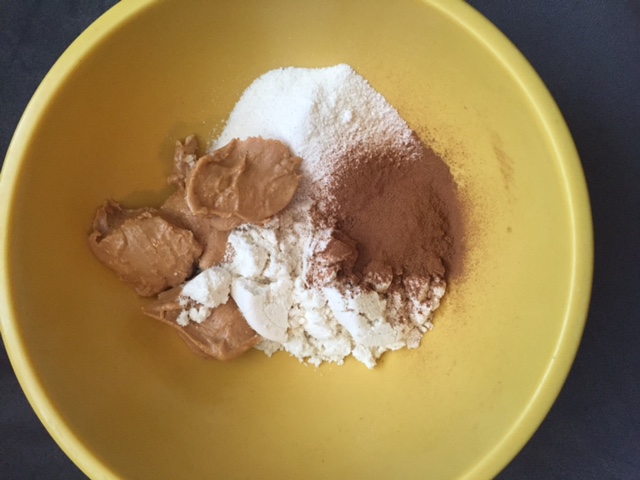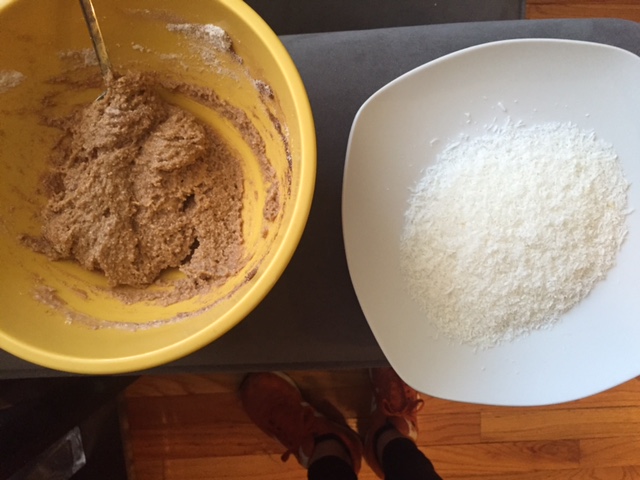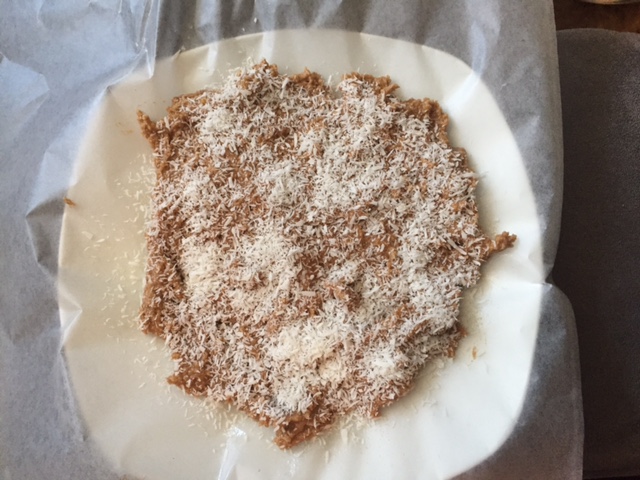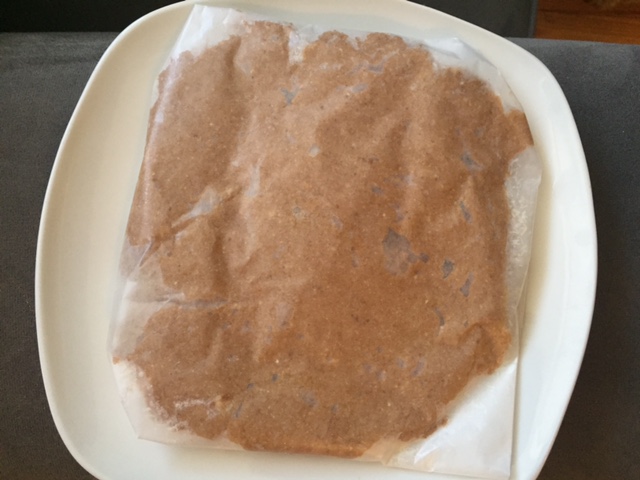 Nutrition Breakdown (for ENTIRE recipe):
Calories: 676
Carbs: 36
Fat: 30g
Protein: 68g
Sugar: 4g
Nutrition Breakdown for 14 evenly sized bars
Calories: 48
Carbs: 2.5g
Fat: 2.1g
Protein: 4.8g
Sugar: .3g
So in addition, I also promised some new workouts for you which I have posted on social media. Either way, here they are. I love having workouts like these for my arsenal when I want something quick, effective and perfect for minimal equipment. I think we, as fitness professionals are sometimes scared to say that we actually aren't following a specific workout plan. The rest of the world see's us as these organized, on point people who are even more organized when it comes to our own workouts and sometimes, this IS the case. For me right now? This isn't the case. Phew I said it. I am not following any sort of 'plan' right now.
I love so many things right now when it comes to fitness and also not training for any sort of event; just LIFE!
While I think it is SO important to have goals and something to strive for, I also think there is something to be said for simply moving in a way that feels good, promotes what you are looking for and being open to *shreek* NOT necessarily having a goal.
When we live our lives constantly thinking about the next goal, we often overlook the fact that we are doing our best everyday. Sure, I set SMALL goals or things I want to achieve, but I have ceased to think about it in terms of body image. I am now setting goals like: making sure I am taking yoga 1-2x a week because that helps my both mentally and physically. Sometimes the problem with constant goal setting is that we think that what we are currently doing isn't good enough.
We overlook the process and simply focus on the outcome.
Another problem with constantly setting goals is that we try to predict the future. We try to predict how quickly we will get to where we want to be and have not even taken into account something that may come along on the way that would change the outcome.
When I was 26, I was training for a fitness competition and I got sick. very sick. I was hospitalized and had life threatening surgery. The second that I was in the hospital bed about to be operated on, I remember looking at my brother and saying that I was worried about my clients for the next day and the show that I was prepping for. THATS CRAZY! I was lying there, and thats what came to mind. My body was in its most unpredictable state and I didn't even think about that. The thoughts rushing through my mind were regarding my show. I am not at all saying again, that goals aren't beneficial, I think quite the opposite, but I am just stressing the importance and also allowance to the fact that its OKAY to not always have something on the horizon and sometimes our best selves come out when we aren't planning for something.
I wanted to share some great workouts that you can put in your arsenal to try out! They are all meant to be short and intense-stressing intensity over duration. Work hard until you need a rest, take the rest and come right back in the game.
The first workout is a STRENGTH and TREADMILL circuit. The first part involves dumbbells (I wrote 10-20lb but adjust for your fitness level) The second part involves a treadmill. I have done this workout when I have had minimal equipment. I love the combination of both strength and cardio and keeping times ensures that I am always pushing as much as I can until I need a rest.
The second workout is mainly upper body focused and involves the rower. If you don't have access to a rowing machine or don't want to use it, feel free to sub the big stairs or treadmill sprints for about 1 min 30 seconds where it says "200M row"
The third workout is a combination of everything! First section is an AMRAP for 15 minutes and the second one involves you counting reps 15-10-5-10-15.
Pick your poison and ENJOY!
And post workout? I have been obsessed with this combination
I also always enjoy a quick smoothie made from
1 banana
1C kefir
2T PB 2 (for flavor!)
Shakes of cinnamon
1/4C almond milk
5 ice cubes
handful spinach
HOPE YOU HAVE A WONDERFUL DAY!!
XO
Naomi