Chicken gets boring. Those who say they can eat plain chicken everyday for 5 or 6 meals a day…bleh. They don't really wannnnt to be eating plain chicken–it's just easy–I get it. Well to be honest-making chicken taste good really don't take that much effort. I swear! I love lemon and chicken paired together. Its sweet, savory, tangy, summery…you catch my drift. I highly suggest using the real deal rather than the bottled lemon juice which I think tastes nothing like it in comparison.
So I made this lemon -thyme chicken with a lemony quinoa that was packed with mushrooms and snap peas. It was a whole lemon based meal if you haven't caught onto my theme here yet. BONUS–its even better the next day (not just the chicken but this WHOLE meal)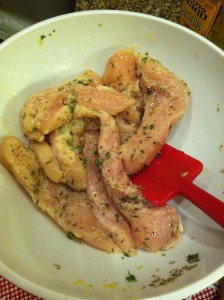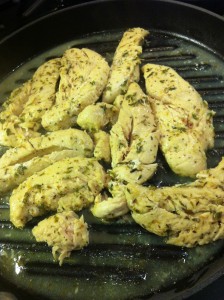 This chicken keeps so well in the fridge. Dare I say I even like it better the next day? What is it with leftovers that are so much freakin better the next day. Besides sandwiches–never give me a day old sandwich. I will probably throw it back at you. Who has leftovers from a sandwich anyway? You get a sandwich and you eat the whole thing. "Oh I'll just wrap this up for later" pshhh that never happens and if there is a half sandwich wrapped up, chances are you will eat it within the few hours after. Its true-you know it.
Okay back to this chicken. Feel free to eat it all in one sitting, it is that good BUT if you are cooking for 1 or 2, this recipe has 4 servings in it sooo you may very well have left overs. You probably have most of these ingredients on hand–besides maybe the fresh thyme. I certainly don't have many fresh herbs laying around my apartment mostly because my apartment isn't really condusive for housing fresh herbs. They really won't last that long. I purchased a basil plant once. Once. So…I bought some fresh thyme and a lemon. The rest of the ingredients I had around.  Go make this chicken okay? Its packed with protein. Its tasty. It is not boring and it tastes way fancier than what it takes to prepare so its a great  "I want to'WOW' them meal" (whoever 'them' is)
Prep time:
Cook time:
Total time:
Light and summer. The dish was very simple to put together and it smelled amazing while it cooked on the stovetop. I love how easy and fast it came together which makes it perfect for a weeknight meal in a pinch! The chicken comes out tender, moist, and so delicious with a huge lemon kick!.
Ingredients
1lb chicken breasts (I used tenders because they cook faster and thats what I had on hand)
1T olive oil
¼C white wine
Juice from 1 lemon
½ tsp dried oregano
1tsp fresh diced thyme
sea salt and pepper to taste
zest of 1 lemon
Instructions
place chicken in a big dish. Add lemon, lemon zest, thyme, oregano, salt and pepper to the bowl and mix well. Let the chicken sit in the lemon and spices for about 15 minutes.
Heat a skillet over medium heat. Add in the olive oil and wait until it begins to sizzle. When the pan is hot, add in the chicken, so the tenders are evenly spaced out from one another. After a few minutes, when the tenders begin to turn opaque, flip them over and add in the wine.
Keep a watchful eye on the pan as to not burn the chicken. You may want to turn down the heat to low-medium so the chicken stays moist and tender
Add any additional salt and pepper.
Wait about 7-8 minutes or until the chicken is cooked through and transfer to a serving platter
Enjoy!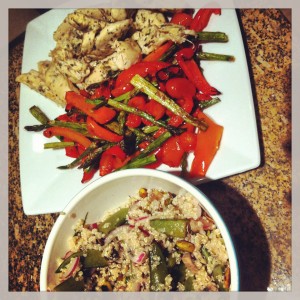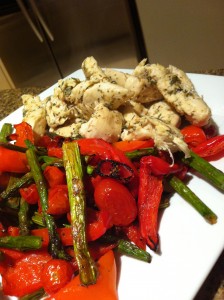 Oh that quinoa? You probably want that recipe too. I know quinoa was all the rage about a year ago when it first hit the scene. I couldn't open up a blog or cooking magazine without seeing quinoa used. I should also probably mention it took me MONTHS to acutally learn how to pronounce this stuff "KEEN-WAH" My mom still struggles with it. Even if I know shes making it, I ask her what shes making so I can hear her attempt to say it about 6 times before I just can't stand it and correct her. "KEENOWAH" "KWANAWEHA" One day. One day, she'll get it on the first try. We can only hope. 
Its been really hot in Boston. Like really hot and when I came across this recipe, I knew that it sounded perfect as a cold dish. You can certainly serve it warm, but I served it chilled. I also made it the night before which I think is KEY in marrying the flavors together. KEENWAH is a powerhouse! It is actually a seed, not a grain contrary to what people think. It is a complete protein too! It is a great option for  for vegetarians, vegans, and anyone interested in adding non-meat proteins to their diet. And not to bring the whole 'exercise' aspect into this while you're busy drooling away BUT this stuff makes a great pre or post workout meal when paired with some animal protein like chicken or beef. It is low in fat, an excellent source of iron, which is important for optimal energy levels, and is very high in magnesium and lysine which is important for tissue repair and growth.  
This recipe below is adapted from this recipe that I found

Snap Pea and Mushroom Quinoa
Prep time:
Cook time:
Total time:
Lemony, light and flavorful. This quinoa dish combines the crunch of fresh snap peas with the meaty flavor of mushrooms. The lemon and red onion tie everything together! I recommend making this dish a day before to let the flavors marry and for the mushrooms to soak up all of the lemony goodness. You can serve this dish hot or cold!
Ingredients
2C water
1C quinoa
2C fresh snap peas-cut into thirds
¼C thinly sliced red onion
1T fresh chopped dill
⅓C white wine vinegar
2T olive oil
1tsp freshly grated lemon zest
1T lemon juice
1tsp agave, honey or maple syrup
Instructions
Combine water and quinoa in a saucepan and cook according to directions.
Once cooked, in that same saucepan–add in the snap peas and cover to let them get a bit tender. Fluff with a fork and set aside
Combine mushrooms, onion, dill, vinegar, oil, sweetner of chioce and lemon juice and zest. Set aside.
Add the dressing with the mushrooms into the quinoa. Mix well until everything is evenly combined.
Serve immediately OR store in an airtight container overnight and serve the next day!
If you like the sounds of this quinoa recipe, you have GOT to try this one that I made last year Greek style quinoa with feta Make it. Bring it to a dinner party. Or bring it to my house. Whateverrrr
Did I mention that it has been HOT? Its very much back to the norm for this time of year but last month? Not so much. Okay, well that atrocious heat wave that we had in Boston a few weeks ago was the one week I decided to have a photo shoot with my extremely talented friend, yoga instructor and photographer, Bre All of you Bostontians know the week I am talking about. You walked out of your air conditioned office into absolute sticky, sauna temperature, thick air. The amount of clothing worn should have been enough to cover those important areas. Anything else was just too much. Anyway…we did a mini shoot at the esplanade and then took some shots at my bootcamp that evening. Coconut water in hand. We were good to go!
Good stuff!
So if you want to go workout and then stop at the grocery store to go make this meal to refuel your bod…I have you covered. C'mon…I'm always looking out for you guys!
You know I am ALL about efficiency in the gym! 2+ hours a day in the gym? uhhh whhhhaaaa?! No thank you.  Besides the fact that spending this long in the gym must get really old, really fast. It also makes me wonder what exactly is taking place there? Go enjoy LIFE! Not to mention that spending well over an hour workin all out at a high intensity can signal the body to produce excess cortisone which can in turn tell the body to store fat.  Cortisol can also increase muscle catabolism meaning your body begins to eat away at your hard earned muscle
I suggest  that you plan it out: With a well planned workout schedule, you really should not need to spend more than 1 hour max in the gym. (45 minutes being preferable) It is all about quality over quantity. Personally, I prefer to work at a high intensity for a shorter amount of time to really make my body a fat burning machine, and also to keep moving on with my day. I really can't stand to dillydally around the gym. I get in, get out and get it done! 
With that said…here is a
FULL BODY BURN
for you to try! 
**The weights that I wrote are suggestions that you can try. Obviously, adjust the weight accordingly to scale up or down depending on your fitness level.  The first two sets are more strength based and the last set is more metabolic based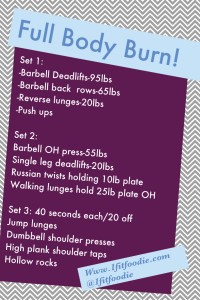 Go through set 1- 3x through before moving onto set 2. Repeat each set 3x and then go eat some chicken. And KEENWAHHHH. 
What have you been having as your post workout meal?!