I tried a new product recently. I was very weary of it to say the least. "Pastabilities" uhhh I would rather just have some real pasta. BUT–there are some days where you want the texture of pasta but want to nix the carbs. I eat carbs-I always have…they are fuel but that doesn't mean that I don't try new products or play around with subsitutes every now and then–plus these are green and come in a bag and take about 2.5 minutes to cook. I had to try them. Obviously the 'pasta' wasn't going to be eaten on its own so being the meatball queen I am, I decided to whip up some lean beef meatballs to pair with the noodles. 
Fresh Basil and roasted red pepper Meatballs? Ummmm delicious.  (RECIPE AT THE BOTTOM!)
You all know by now that I am pretty obsessed with making meatballs! All types–turkey, beef, chicken, you name it-I've probably made them! 
 The noodles are made by Quest Nutrition I've tried those Shiritaki noodles before and I have to say that these are much better (call me crazy but I do think they taste different) The shiritaki noodles I find are slimy and have a wierd aftertaste. These were pretty darn delicious if you ask me. I liked the flavor and also like how it held up with the meatballs and cheese. I am not going to sit here and say "yeah, it tasted just like real pasta" because well, it didn't BUT I will say that its a great alternative and fun meal to make every now and then! You know I have subsituted spaghetti squash for pasta before and made a great dish of turkey meatballs and spaghetti squash!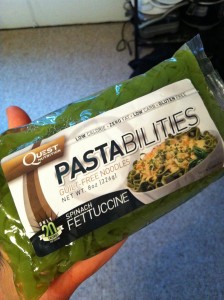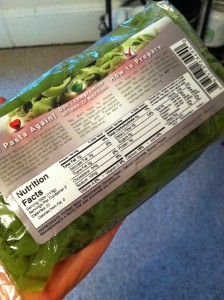 These spinach fettucini noodles are gluten free and have 20 calories in the entire bag, 6g of fiber and 6g net carbs. The consistency of the noodles are slightly more chewy than al dente pasta. They will really taste like anything you put on them! I will warn you, as soon as you open the bag you will get a whiff of an 'ocean' scent that can be quite unpleasant but as soon as you strain them under cold water and begin to heat them up, the smell goes away completely 
To cook them, you can just  rinse the noodles in a strainer to remove the water then flash boil for 1-2 minutes. OR you can throw them in a skillet like me OR you can heat it in a microwave safe bowl for 1-2 minutes. 
I decided to throw the pasta in a pan instead of just heat it in the microwave. For some reason this appealed to me more in order to heat the noodles up than throw them in a bowl and nuke them for a minute. Either way I am sure they'll taste great!
BASIL RED PEPPER MEATBALLS WITH PASTABILITIES!
Basil Red Pepper Meatballs + PASTABilities
Prep time:
Cook time:
Total time:
This dish is packed with protein, low in carbs and absolutely delicious. You will leave feeling satisfied and happy. Still grab a piece of that dark chocolate, doooo it
Ingredients
1 bag PASTAbilities
1lb lean beef (96/4%)
¼C roasted red peppers-chopped
3T fresh basil-chopped
2T dijon mustard
salt and pepper to taste
1T fresh parmesan cheese
½T olive oil (for the pan)
Instructions
Pre heat the oven for 350 (for the meatballs)
Mix the lean beef, peppers, basil, mustard and spices in a large bowl.
Shape into 1 inch meatballs. Place in a baking dish and bake in the oven at 350 for about 15 minutes (flipping halfway)
While the meatballs are cooking, prep your noodles!
Cut the bag open and drain the noodles in a strainer.
You can cook in the microwave OR place in a skillet with ½T olive oil and heat the noodles for a few minutes.
When the meatballs are done, place the desired amount (I measure about 4-5oz for a dinner sized portion for myself) in a bowl with ½ bag of the noodles (You can also have the whole bag) I just had half at a time!
Sprinkle with parmesan cheese
ENJOY!
So my personal suggestion would be to complete this stepmonster workout that I have for you below and then go make some meatballs. Or eat first and then go do this workout. When it comes to interval cardio, I love the stepmill. I always have when it comes to HIIT cardio. The stepmill works the glutes, quads and calves like you wouldn't believe! If you are looking to get in a great cardio advanced interval workout look no further than the
Step Monster Workout!
| | | |
| --- | --- | --- |
| Time | Level |   |
| 0-1 | 8 | |
| 1-2 | 8 | |
| 2-3 | 9 | |
| 3-4 | 9 | |
| 4-5 | 10 | |
| 5-6 | 10 | |
| 6-7 | 11 | |
| 7-8 | 11 | |
| 8-9 | 12 | |
| 9-10 | 5 | |
| 10-11 | 12 | |
| 11-12 | 5 | |
| 12-13 | 13 | |
| 13-14 | 5 | |
| 14-15 | 10 | SKIP STEPS |
| 15-16 | 11 | SKIP STEPS |
| 16-17 | 5 | |
| 17-18 | 8 | SKIP STEPS |
| 18-19 | 10 | |
| 19-20 | 8 | SKIP STEPS |
****Repeat minutes 5-20 for a 35 minute total workout!
QUESTIONS:
What is your favorite form of HIIT cardio?
What is your favorite way to eat pasta?