Do you ever have those days or times where you're craving something and you need it…stat. You don't care where it comes from or how you find it but when you eat it you are so much more satisfied. It was the 'missing link' that your body was craving.  Our bodies communicate with us on a daily basis. It's a strange thing because one day you may feel like you need to punch someone in the face and cut through an entire long line at the store to get that slice of pizza, on other days, the thought of pizza will make you cringe. Some days you just want a donut. Other days you want a big salad. What's going on? The inconsistent cravings can really throw us for a loop! For those times that our bodies are craving donuts and pizza, we try to cover it up and not listen, am I right? How many times have you wanted a big slice of pizza but said "I'll go with the salad" while looking longingly at your friend savoring that delicious slice.
Sometimes, cravings can come from the strangest places. It can even stem from something we are missing that has nothing to do with food! Anxiety, stress, fatigue, tired, hungover, emotional…our bodies signal us to want certain foods at these times. I remember when I was in college and I had a big exam coming up, I always sipped on oolong tea. The main ingredient in this type of tea is 'gaba'  The benefits of gaba helps you feel peaceful throughout the whole day. When gaba goes up it slows down anxious thoughts in the brain, so I always reached for ooling tea while studying which is packed with all natural gaba. It always calmed me down. 
Cravings can also, however come from nutrients that our bodies are lacking. Chocolate? You may be low in magnesium. Steak? You may be low in iron. Fat? Your body is low in essential fatty acids. Bottom line–listen to your cravings but take a moment to really truly think about why you are craving them. This doesn't mean not to give into what your body wants, but rather to take note as to why it wants it–these are all important steps in becoming more in tune to your body.
The other week I had a serious, intense craving for bananas. No other fruit was doing it for me. I literally left work during a 30 min opening that I had, bought one perfectly ripe banana for nineteen cents at Trader Joes and ran back.  
I did some research as to why my body wanted this particular fruit so badly. Obviously, what many of you are thinking which it turns out was true was that I was running low on potassium.  Similarly, I was also close to my cycle so my magnesium levels were a bit lower than usual (magnesium levels drop around a womans menstrual cycle) So, the two nutrients are interconnected.  Another important factor to take into account is that I am extremely active. I am running around all day long at my job in addition to working out myself 5 days a week, so it is very important for me not to shy away from sodium, which sometimes happens on those crazy days. This particular week I was craving bananas, my diet had been a bit off and I realized that I was seriously lacking in essential nutrients. Not only did I have about 5 bananas that week, but I also picked up some Himalayan Sea Salt which I began using when I cooked my food to balance out my sodium and potassium levels. Another 'go-to' I always have on hand in my kitchen is Pedialyte which is very high in electrolytes and I ALWAYS like to mix some with my water on those days I am really feeling that I need that extra boost. 
Like I have ALWAYS said…It's is so important to realize that we are all different when it comes to our health conditions, hormones, pre-dispositions , etc. Its integral not to compare what you are eating to what your friend eats. You need to learn how your body works, your energy levels, daily activity, hormones, health history , etc.  If you want a piece of dark chocolate…truly craving a piece of that delicious dessert–have a small piece! Chances are you will feel 100% better afterwards and most likely because your body may be a bit low in magnesium so you just fixed that imbalance while enjoying an antioxidant filled treat!
Cravings Are NOT a Weakness
What I don't get is how many people see  food cravings as something 'bad' or a major weakness. You eat 'clean' and healthy 90% of the time but then theres that one time during the week where you want salty and reach those tortilla chips or crave comfort so reach for bite of that mac and cheese OR need to satisfy that sweet tooth so grab slice of the dark chocolate cake sitting in the fridge. This is not a weakness.
"Ughh why am I craving a sandwich…I don't want to have the bread but I am cravingggg a big turkey sandwich with melted cheese" Is this 'bad' to want a turkey sandwich? I almost gaurentee that when you put yourself on a food restricted diet, you will be more likely to crave foods because you are mentally 'not allowed' to have them. Its similar to when you were 18 and all you wanted to do was drink because it was 'against the law' Then, after you hit 21–it was no big deal. Drinks here and there and you didn't even care. Accepting food cravings and actually giving into them, with a balanced diet is a much better way to control weight.
Do You Experience Cravings?
How to Deal With Cravings
Give Into Them! Guys..seriously…if you are truly craving a piece of chocolate–eat it! You wil be able to maintain your mental health and sanity if you just LISTEN to your body if you are in serious crave mode for a certain food. Am I telling you to go eat a plate of nachos, wash it down with a milkshake and grab a cheesecake for dinner? No. But if you want a certain food that you may not 'normally' indulge in-just listen! The people who are able to maintain their weight and feel healthy and happy are those that give into their cravings! Enjoy that scoop of real ice cream rather than the pint of Pinkberry. Real over the chemical stuff–your body will thank you!

Distract yourself: Sometimes we can get SO focused on a craving that it can completely consume us. From that one day you saw the girl on the street eating a huge slice of pizza..that is ALL you have been wanting! SOMETIMES–a craving is much more powered by our brain which can stay fixated on that food rather than even completing daily tasks. Try doing something completely different–go for a walk, light a delicious candle or take a bath. Something to get your mind not focused on it. If you are still wanting that food–then of course give in!

Address Nutrient Deficiencies: If you find yourself craving the same foods over and over again, this can be a huge red flag that your body may be deficient in certain minerals or nutrients. I would suggest getting some blood work taken by your Doctor to see if you truly are defecient in a certain nutrient. This may be the answer to all of your worries!
The Recipe
Speaking of cravings…I wanted something sweet and chocolatey and didn't want to leave my apartment the other night. I always have dark chocolate in my freezer—DUH. Well I remember that I had just finished the organic dark chocolate fig bar that I had in there from the other week. After I sauntered around,  I checked out what I had in my fridge and cuppboards. I grabbed some items and came up with a pretty delicious treat!
Almond flour

unsweeteened cocoa powder

coconut oil

eggs

flax

protein powder 
No Bake Almond Coconut Bites (Low Carb!)
Recipe type:
Dessert, snack
These delicious little treats can be enjoyed anytime of day! They are sweet and chocolately and packed with protein, fiber and good fats. CHEERS!
Ingredients
½C almond flour (I used Trader Joes brand)
2T unsweetened cocoa powder (I used Hershey's extra dark)
¼C melted coconut oil
1 scoop whey protein (I used cellucor marshmellow peanut butter)
1T flaxseed meal
2T almond milk or other milk of choice (or enough to make mixture into a paste)
Instructions
Mix all ingredients in a bowl until everything is well combined. Form into 1 inch balls and place on a dish, plate or on ceran wrap. Throw them in the freezer for about an hour or until fully hardened. EATTTTT. I made 8 evenly sized balls and the nutritonal info is based on each one. Feel free to make fewer, bigger sized bites!
Nutritional Info PER BALL
Calories: 91 

Fat: 8g

Fiber: 3g

Protein: 3.6g

Sugar: 0g

Sodium: 8mg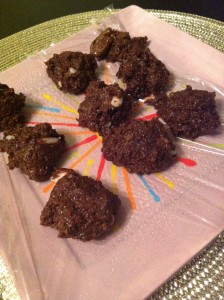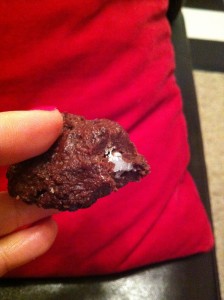 Check that out…yeah…I know. Well the good thing is that they are ridiculously easy to make and they can stay in the freezer for-um-ever? But they won't, trust me! I made these for a nighttime treat but of course you can have a few for breafast or snack or whenever you want!
And if you're looking for some more protein packed recipes?
Let me know if you try this recipe!
Do you have food cravings and how do you feal with it?!